Politicians, love them or hate them, adore having their picture taken wherever it may be. A great picture will reveal certain features about a politician that they want to show to their nation; whether it be wise, strong, respectful, kind etc. However due to some great photography work around the world, not all the pictures that are taken result in the 'white teeth smile' image that politicians look for…And on squeezing the internet for all the political photographic goods it had to offer, here are the top 30 pictures of politicians instilled in truly 'golden' moments.
Gordon Brown and his microphone eyes
This was a probably a precaution made by the BBC, hiding Gordon's Brown's eyes from the British public with microphone heads. Rumour has it that looking into Mr Brown's eyes results in serious boredom.
Cameron, Boris and the Bullingdon Boys club
This picture did the rounds on the internet a few years back. Look closely for the cheeky chap Cameron (number 2) and everyone's best mate Boris (number 8). The rich boy club used to get boozy and run around annoying people in Oxford with their behaviour. A lot has certainly changed now… they now annoy most of the country!
Tony Blair's gesture
Similarly, Tony Blair was also in the club. The youthful prime minister states with his hands what many people in their first three seconds of listening/speaking/talking to him already think.
Sarkozy nearly gets a full smack on the lips
At this political walk-round, French PM Sarkozy nearly gets more than he bargained for from a keen supporter.
George Bush and… Well
Is the mystery man checking Bush's groin for a bomb? To see if he's got his belt on? Maybe George forgot how to do up his zip….who knows. However, the man behind George looks awfully happy!
Sarkozy Face
It would have been very unfortunate if the wind changed direction whilst the photographer asked Sarkozy to pull a face.
Merkel's bullfrog impression
At a press conference, a journalist may have asked German Prime Minister Angela Merkel to display her trademark toad impression. It pleased everyone.
Everything in America is bigger and better!
This is what vertically-challenged Sarkozy experienced when giving an interview with George Bush.
Putin: The king of men
Russian Prime Minister Vladimir Putin is one for letting the people know how much of 'bloke' he is through political propaganda pictures – here are some of the best ones.
Tony Blair's 'Brent' Moment
Tony Blair has a moment Ricky Gervais's creation 'David Brent' would be proud of.
Berlusconi on heat
At a political meeting, Berlusconi's groin is probably reminding him he's running late to his next 'Bunga Bunga' party. That, or politics excites him a little bit too much.
McCain doing the zombie
Unwittingly caught on camera, this photo depicts McCain taking a cheap shot behind rival Obama's back.
Michelle not looking fresh
This is pretty much what it says on the tin. This definitely was not a photo for the collection.
Berlusconi and his devil horns
You just know that Berlusconi is 'that guy' who always ruins the family photo.
Gordon Brown taunts
Tony Blair was probably sat opposite
Tony Blair and Michelle's kiss
A very incriminating picture of a kiss shared between Michelle Obama and Tony Blair.
Putin boasts to Bush
Russian PM Vladimir Putin is either telling a 'big fish' story, or is comparing sizes with George Bush.
Clinton's favourite Pet
Clinton gets slightly more than he bargained for when taking this dog for a walk.
Hot Dogs: Michele Bachman
Yes, it's very much toilet humour – but the internet masses love it. Here we have Republican Michele Bachman 'enjoying' an extra-large frankfurter.
Hot Dogs: Merkel
Another one for the German fetish sites, Angela Merkel similarly gets a hot dog down her throat.
Not a Hot Dog: Tony Blair
Not quite a hot dog, but Tony Blair enjoys putting this device in his mouth. Note the woman in the background seems to be very pleased at Tony's activity.
Chinese Politics
Chinese politics or a scene from Kung Fu Hustle? You decide!
The Berlusconi and Michelle Obama handshake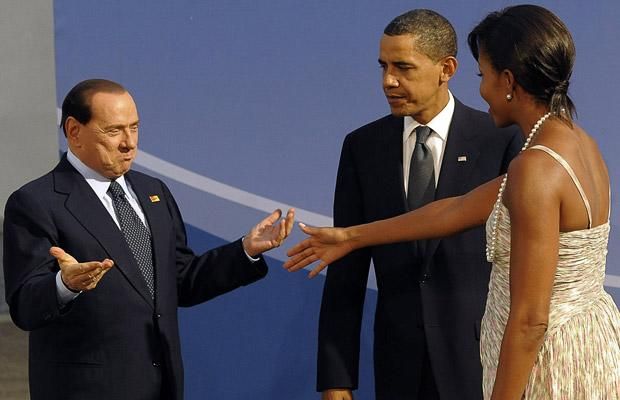 At the 2009 G20 summit, Berlusconi is denied a hug from Michelle Obama.
Joe Biden the wrestler
Vice president tries his hand at Mongolian wrestling.
George Bush tries stand-up
You can't help but smile at Bush, the only thing he was useful for.
Mbeki caught in the moment with Sarkozy
South African politician Thabo Mvuyelwa Mbeki is very surprised with something Sarkozy has said.
Putin's admirer
A Russian admirer stares into the determined eyes of Russian PM Vladimir Putin.
Kim-Jong-il stares at things
This comes from a Tumblr called Kim-Jong-il looking at things. It contains some great pictures of what Mr Jong-il did best…which was evidently looking at things.
George Bush and the baby
George Bush demonstrating his strong father-like abilities.
Sarkozy and Merkel
This picture shows Angela Merkel and Sarkozy sharing a somewhat tender moment.
In conclusion, from reading this you have probably learnt that if you're a politician you've always got to be prepared for the worst whilst there are cameras around. And if you're just a regular citizen, hopefully you have learnt to always have a camera handy – just in-case you can snap David Cameron guzzling down a hot dog.
These photographic gaffes were compiled by online printer ink and toner cartridge merchants, PrinterInks.com; stockists of cartridges from top brands including HP, Canon, Kodak, Samsung, Brother and Epson.